CPS in action at Deepdale
Date: 18/10/19
When it comes to the early rounds of the League Cup, or Carabao Cup as it is currently known, the big teams are often accused of not taking it seriously, sending out weak sides of young players. But when Manchester City, second in the Premier League, played Preston North End, third in the Championship, they knew it was a game that they had to be fully up for. Which is why Pep Gardiola sent an all-star team, to Deepdale, including the likes of Raheem Sterling, David Silva and Gabriel Jesus.
Backing the home team
For the home side, however, one of their key players was CPS. With such a big game on the cards, The Lillywhites knew that everything had to run as smoothly as possible, and CPS was drafted onto their team to supply high quality portable electricity generators. With our reputation for dependable, reliable power, CPS were the perfect choice for Preston on such an important night.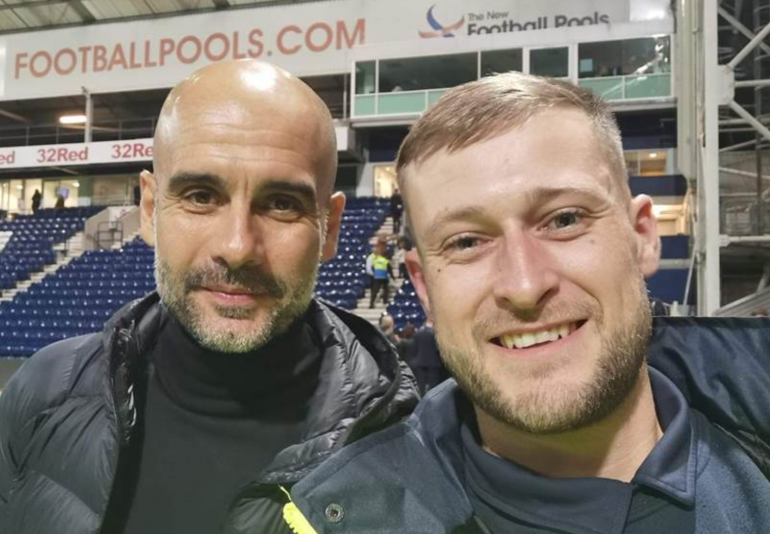 Our manager meets City's manager
With so much a stake, CPS sent along a dedicated engineer, Stuart Dean, to manage the generators. He made sure everything was set up right from the start and continued to make regular checks on the generator hire equipment throughout the game. In between, he enjoyed one of the best seats in the house, directly behind City's manager and his bench, and at full time, he was delighted to get to meet Pep and some of his players in person as they celebrated their 3-0 victory.
A successful away fixture
As you can see from the picture, CPS completed the perfect away fixture, keeping the floodlights on all through the match and beyond, not only putting a smile on Pep's face, but keeping our clients, Preston North End happy too.
0 Comment
---
Blog Archives
CPS Quotation
If you require a quotation please complete the form or contact our Sales Team on 01995 642 600 Now.
I would like to convey my thanks to your company for the professional approach and quick response to our call, it set the customer at ease that we could respond so quickly especially as he had called a supplier on their books and couldn't get a definite response as to when they could get one.

Midlands Power Networks Ltd

Just a quick email to say many thanks for sending Andy to site at such short notice. As usual Andy was brilliant, explaining things to my management and to one of the electrical managers that was on site to investigate the power down. His calm and assured explanation of the issue and the positive way he dealt with the units and brought them back on-line is a credit to CPS.

Durham County Council

The generator has arrived and I just wanted to thank you for sorting it so quickly and say your driver has been fantastic and most helpful as always.

J Wareing & Son (Wrea Green) Ltd

Thanks for pulling out all the stops and going above and beyond for this one. It's really appreciated so please pass on my thanks to all involved.

NHS University Hospitals Morecambe Bay Trust

Just wanted to say a huge thank you for the speedy response to our generator hire requirement yesterday afternoon/evening. The location for the generator was less than ideal for your operative to get into however he persevered and got it in there albeit a long delivery and late finish. Once again, a very speedy, professional and reasonably priced job.

Gareth Owens - HFL Building Solutions