Reaching for the stars with Jodrell Bank
Date: 25/07/18
Central Power Services were delighted to help power our search of the cosmos recently, when Jodrell Bank undertook some essential upgrades. We supplied two generator units to keep the Mark II telescope switched on during the important work.
The Mark II telescope measures an impressive 38m by 25m (125ft by 83ft) and has been in operation at Jodrell Bank since 1964. It forms part of the country-wide MERLIN array (Multi Element Radio Linked Interferometer Network) which stretches across England and the Welsh Borders, creating an array measuring 135miles long. This delivers remarkable resolution and MERLIN is constantly at work unlocking the mysteries of the universe.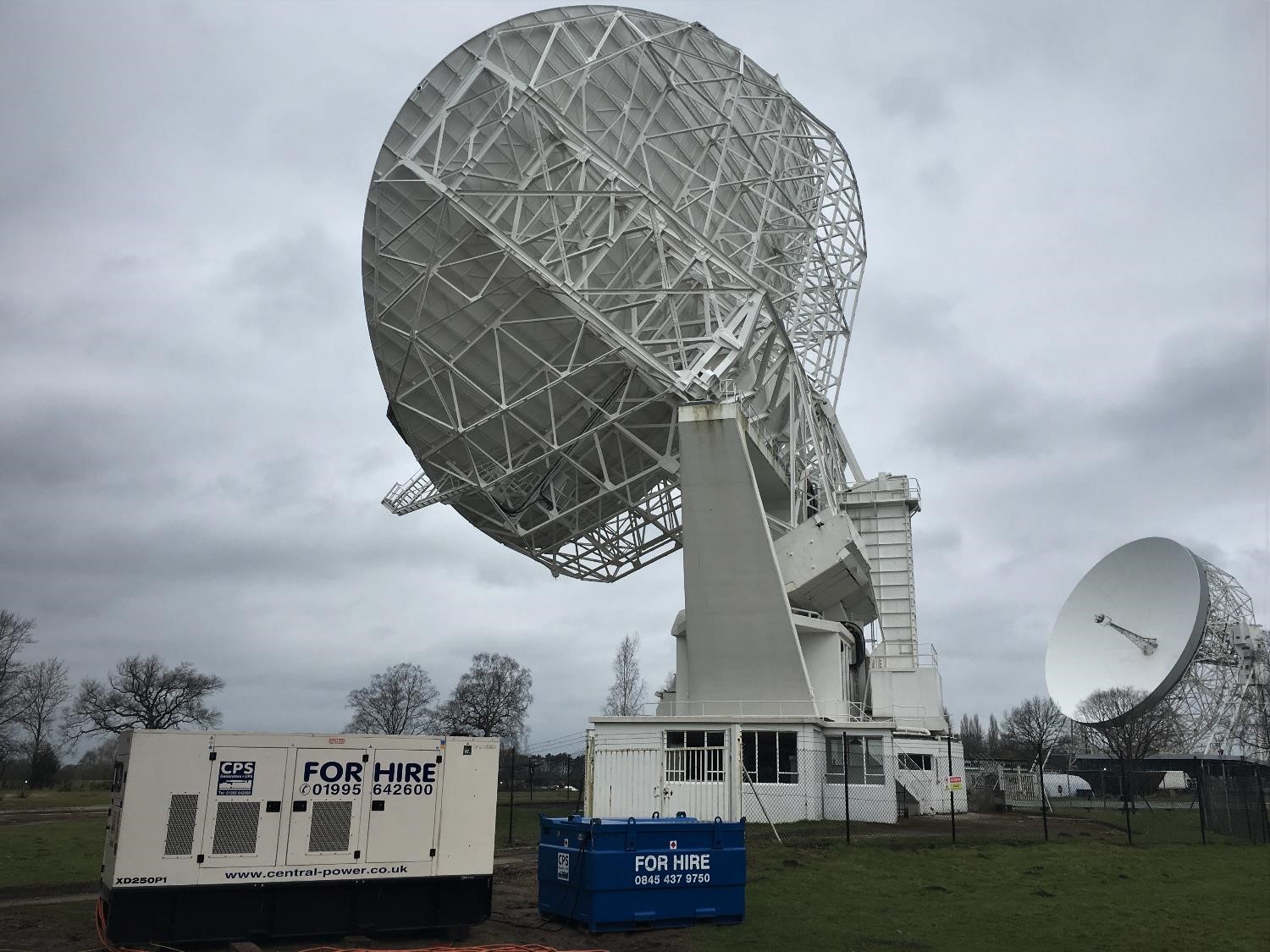 We hired two super silent generators to provide essential backup power supplies as well as temporary main power during the works.
Without this CPS backup, the Mark II may have had to be taken offline, breaking the MERLIN chain and putting key projects back by months. As it was, our dependable, silent generators kept all eyes upwards, ensuring there were no interruptions to the important astronomical work.
"We were privileged to be part of such a fascinating project," explained John Fitzmaurice, CPS Project Co-Ordinator. "We've helped many unusual projects in some amazing locations in the past, but this is the first time we've helped a client venture out into the cosmos!"

0 Comment
---
Blog Archives
CPS Quotation
If you require a quotation please complete the form or contact our Sales Team on 01995 642 600 Now.
I would like to convey my thanks to your company for the professional approach and quick response to our call, it set the customer at ease that we could respond so quickly especially as he had called a supplier on their books and couldn't get a definite response as to when they could get one.

Midlands Power Networks Ltd

Just a quick email to say many thanks for sending Andy to site at such short notice. As usual Andy was brilliant, explaining things to my management and to one of the electrical managers that was on site to investigate the power down. His calm and assured explanation of the issue and the positive way he dealt with the units and brought them back on-line is a credit to CPS.

Durham County Council

The generator has arrived and I just wanted to thank you for sorting it so quickly and say your driver has been fantastic and most helpful as always.

J Wareing & Son (Wrea Green) Ltd

Thanks for pulling out all the stops and going above and beyond for this one. It's really appreciated so please pass on my thanks to all involved.

NHS University Hospitals Morecambe Bay Trust

Just wanted to say a huge thank you for the speedy response to our generator hire requirement yesterday afternoon/evening. The location for the generator was less than ideal for your operative to get into however he persevered and got it in there albeit a long delivery and late finish. Once again, a very speedy, professional and reasonably priced job.

Gareth Owens - HFL Building Solutions