CPS Win Health & Safety Award!
Date: 21/02/22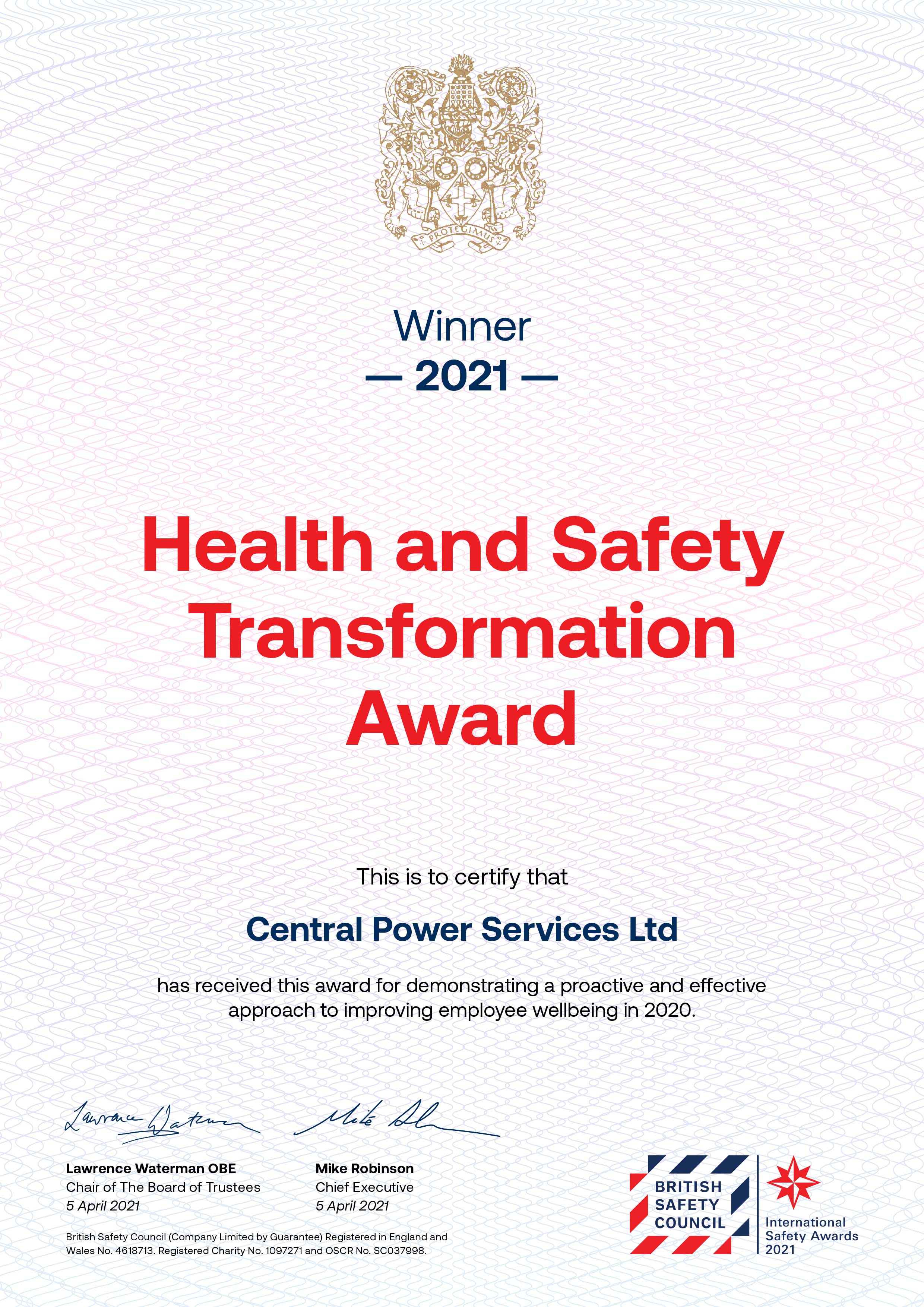 The last two years have been incredibly demanding for all of us, not least from a health and safety perspective. CPS engineers have had to work in the most challenging of circumstances, while still maintaining the highest levels of safety for themselves, our clients and their customers, patients and guests. Which makes it is especially pleasing that CPS has been honoured with a prestigious award for Health and Safety Transformation at the British Safety Council International Safety Awards.
We were proud to receive the Health and Safety Transformation Award for 2021. This award recognises organisations that have changed or transformed any aspect of health, safety or wellbeing to a significant extent through the use of information.
Julie Robson, the Safety, Health, Environment and Quality Manager at CPS, explained how much the award means to the company. "We are delighted and extremely proud to be presented with this award," she said. "It is a testament to the hard work put in by those working out in the field, which has helped to create the positive safety culture we've established throughout the company."
A whole new system
The award was given in recognition of our brand new, digital Site-Specific Risk Assessment (SSRA) system, which replaced the previous paper-based records. These paper records did not always reach head office, meaning corrective actions were not properly logged and the effectiveness of the SSRAs could not be properly measured and audited.
To improve the system, CPS commissioned Profile Software to develop a digital SSRA system that could be used on PDAs in the field. Not only does this new system ensure that all information is automatically synchronised with head office, it also includes prompts to ensure that engineers consider all relevant hazards and risks.
The new system is quick and convenient to use, making SSRAs more efficient and effective. For example, the system creates an on-the-spot risk rating for every job and allows the engineer to flag up any additional risk controls that are needed before work can safely commence.
Safer than ever
Of course, improving our health and safety is about much more than winning awards. CPS is delighted to report that since the introduction of the new digital SSRAs, there has been a significant reduction in adverse events and accidents.
As the world slowly starts to open up again, post-Covid, CPS are emerging stronger than ever. We're ready to power the future with the highest standards of health and safety, whatever the project, location or local challenges.
0 Comment
---
Blog Archives
CPS Quotation
If you require a quotation please complete the form or contact our Sales Team on 01995 642 600 Now.
I would like to convey my thanks to your company for the professional approach and quick response to our call, it set the customer at ease that we could respond so quickly especially as he had called a supplier on their books and couldn't get a definite response as to when they could get one.

Midlands Power Networks Ltd

Just a quick email to say many thanks for sending Andy to site at such short notice. As usual Andy was brilliant, explaining things to my management and to one of the electrical managers that was on site to investigate the power down. His calm and assured explanation of the issue and the positive way he dealt with the units and brought them back on-line is a credit to CPS.

Durham County Council

The generator has arrived and I just wanted to thank you for sorting it so quickly and say your driver has been fantastic and most helpful as always.

J Wareing & Son (Wrea Green) Ltd

Thanks for pulling out all the stops and going above and beyond for this one. It's really appreciated so please pass on my thanks to all involved.

NHS University Hospitals Morecambe Bay Trust

Just wanted to say a huge thank you for the speedy response to our generator hire requirement yesterday afternoon/evening. The location for the generator was less than ideal for your operative to get into however he persevered and got it in there albeit a long delivery and late finish. Once again, a very speedy, professional and reasonably priced job.

Gareth Owens - HFL Building Solutions